Tesaro shares skid low­er as As­traZeneca wows with PhI­II da­ta on PARP drug for ovar­i­an can­cer
As­traZeneca spelled out its im­pres­sive Phase III da­ta for Lyn­parza (ola­parib) pills, which will now line up against Tesaro's ri­val PARP ni­ra­parib.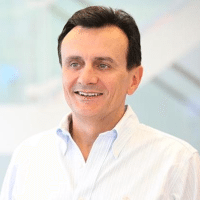 Pas­cal So­ri­ot
In a cen­tral, blind­ed re­view the drug achieved a me­di­an pro­gres­sion-free sur­vival rate of 30.2 months in germline BR­CA-mu­tat­ed, plat­inum-sen­si­tive, re­lapsed ovar­i­an can­cer pa­tients ver­sus 5.5 months for the place­bo arm. A sol­id suc­cess for As­traZeneca, which bad­ly needs to con­tin­ue to build up its on­col­o­gy group if CEO Pas­cal So­ri­ot ex­pects to achieve any­thing like the big turn­around he's been promis­ing in­vestors for years.
The drug al­so achieved a sta­tis­ti­cal­ly sig­nif­i­cant re­sult in de­lay­ing the sec­ond pro­gres­sion or time to death, with the me­di­an rate not reached for Lyn­parza com­pared to 18.4 months for place­bo.
As­traZeneca got a jump on the PARP mar­ket with shaky ear­ly da­ta, which reined in its rev­enue po­ten­tial. The phar­ma gi­ant earned on­ly a bit more than $200 mil­lion on Lyn­parza last year, but ex­pects to in­crease that past the $1 bil­lion block­buster mark as it looks to broad­en its use as a main­te­nance ther­a­py in the US.
Tesaro $TSRO has been aim­ing at a di­rect show­down with As­traZeneca as it winds up for a like­ly near-term ap­proval on ni­ra­parib. Its re­duc­tion in risk com­pares close­ly to ola­parib, with a PFS rate that won't look as good.
Tesaro's ni­ra­parib da­ta high­light­ed a clear im­pact for the tar­get­ed drug in a pop­u­la­tion of germline BR­CA mu­ta­tion car­ri­ers, with a me­di­an PFS of 21 months in the drug group com­pared to 5.5 months in the con­trol arm — a 15.5-month ad­van­tage that will not com­pare well with Lyn­parza's, which beat place­bo by slight­ly more than two years.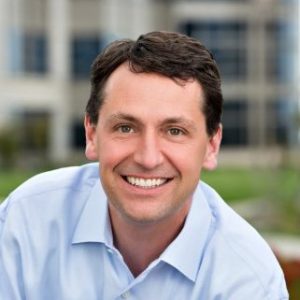 Sean Bo­hen
Tesaro's shares skid­ded down 12.5% on the com­par­i­son. Clo­vis $CLVS, mean­while, which has had prob­lems of its own in de­vel­op­ing its new­ly ap­proved PARP Rubra­ca, saw its shares rise 6.9% as the horse race among all the PARPs looked tighter than ever.
Pfiz­er will look to join this group in the not too dis­tant fu­ture with its own piv­otal da­ta for a PARP — ta­la­zoparib — picked up in the $14 bil­lion Medi­va­tion ac­qui­si­tion.
"With these da­ta, we be­lieve it is very dif­fi­cult to chal­lenge the no­tion that the lead­ing PARPs (ni­ra­parib, ola­parib, ru­ca­parib, ta­la­zoparib) are more sim­i­lar than dif­fer­ent," summed up Leerink's Sea­mus Fer­nan­dez. "But fol­low­ing our con­ver­sa­tion with AZN, they are most fo­cused on the safe­ty and tol­er­a­bil­i­ty of ola­parib, which they be­lieve is a key area of dif­fer­en­ti­a­tion vs. ni­ra­parib."
As­traZeneca R&D chief Sean Bo­hen said:
We are ex­treme­ly pleased with the re­sults from SO­LO-2, which sup­port the po­ten­tial ben­e­fit of LYN­PARZA tablets as a main­te­nance ther­a­py for pa­tients with re­lapsed ovar­i­an can­cer. The tablet for­mu­la­tion may of­fer pa­tients a re­duced pill bur­den for LYN­PARZA and a safe­ty pro­file that is gen­er­al­ly con­sis­tent with pre­vi­ous tri­als. We will work with reg­u­la­to­ry au­thor­i­ties to make LYN­PARZA tablets avail­able to pa­tients as quick­ly as pos­si­ble.