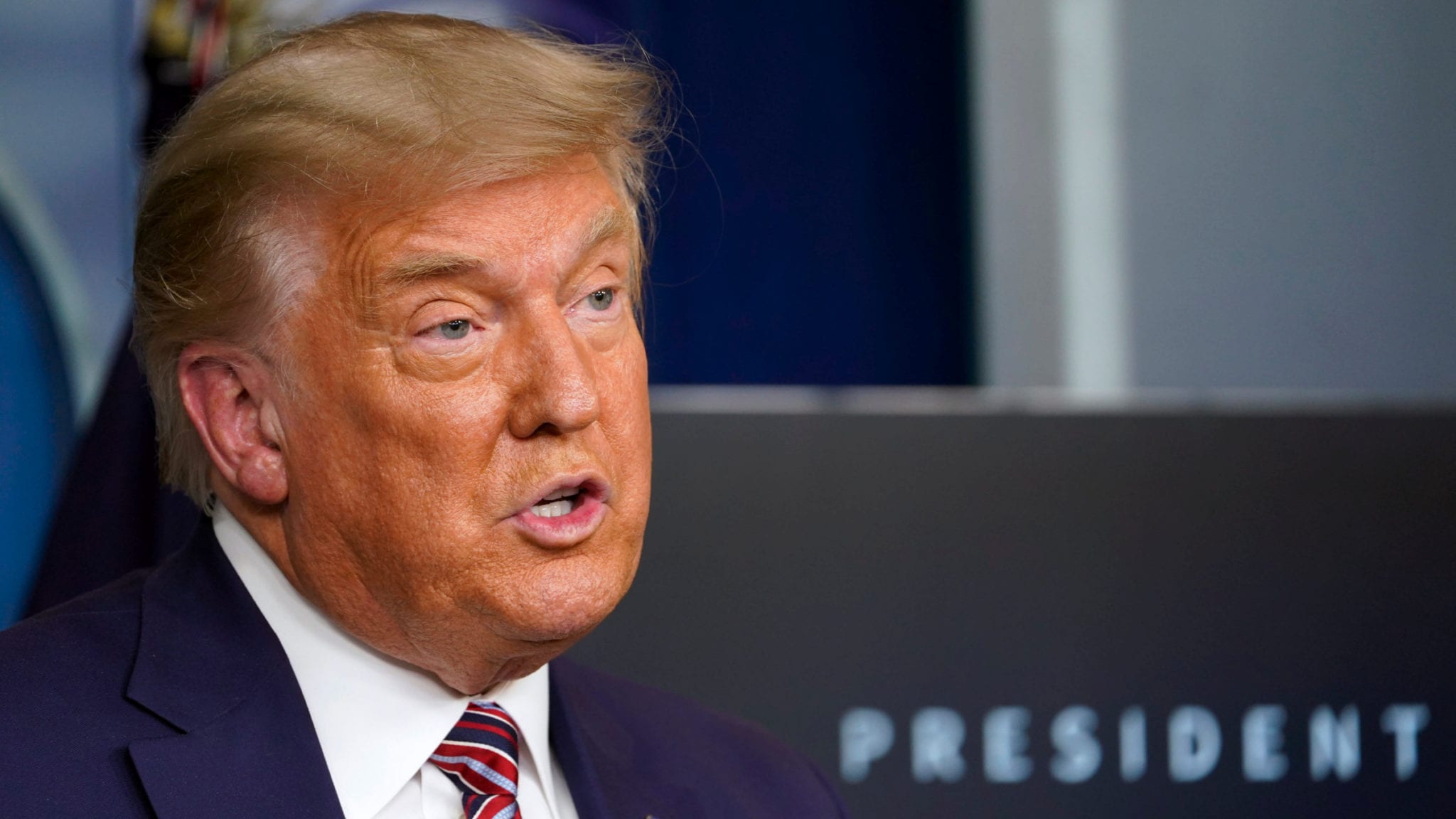 President Donald Trump speaks at a Nov. 20 news conference in the briefing room at the White House (Susan Walsh/AP)
With on­ly weeks left in his pres­i­den­cy, Trump makes a fi­nal, long-shot bid to re­make US drug pric­ing
As the cur­tain clos­es on his ad­min­is­tra­tion, Pres­i­dent Don­ald Trump is us­ing his fi­nal weeks in of­fice to push one of his longest-run­ning cam­paign promis­es of low­er­ing pre­scrip­tion drug prices.
Trump an­nounced in a brief Fri­day news con­fer­ence that he would be in­sti­tut­ing the "most fa­vored na­tions" rule ty­ing prices in the US to those in oth­er de­vel­oped coun­tries, as well as end­ing cer­tain re­bates paid to mid­dle­men, al­so known as phar­ma­cy ben­e­fit man­agers, in Medicare. The two rules were part of a se­ries of four ex­ec­u­tive or­ders Trump un­veiled in Ju­ly aimed at tack­ling high pre­scrip­tion costs.
The rule will be­gin to take ef­fect on Jan. 1, Trump said, and is slat­ed to run for the next sev­en years. In the mean­time, Trump said he would al­low state gov­er­nors to pur­chase drugs from Cana­da at low­er prices, though he of­fered no de­tails about how this would take place.
It's not im­me­di­ate­ly clear how Pres­i­dent-elect Joe Biden's in­com­ing ad­min­is­tra­tion would han­dle the rule. Biden has said pre­vi­ous­ly that he would con­sid­er es­tab­lish­ing an in­de­pen­dent re­view board to as­sess the val­ues of med­i­cines, ac­cord­ing to Politi­co. Law­suits chal­leng­ing the new rules are like­ly forth­com­ing, fur­ther com­pli­cat­ing their im­ple­men­ta­tion. Trump is al­so con­test­ing the elec­tion re­sults, though in­de­pen­dent ob­servers don't give him any kind of a re­al chance at suc­ceed­ing.
PhRMA, one of the in­dus­try's top lob­by­ist groups, ex­pressed its dis­plea­sure with the moves in a state­ment Fri­day af­ter­noon. Pres­i­dent Stephen Ubl said, in part:
It de­fies log­ic that the ad­min­is­tra­tion is blind­ly pro­ceed­ing with a "most fa­vored na­tion" pol­i­cy that gives for­eign gov­ern­ments the up­per hand in de­cid­ing the val­ue of med­i­cines in the Unit­ed States. His­to­ry proves that when gov­ern­ments take uni­lat­er­al ac­tion to set prices, it dis­rupts pa­tient ac­cess to treat­ments, dis­cour­ages in­vest­ment in new med­i­cines and threat­ens jobs and eco­nom­ic growth.
In its cur­rent form, the most fa­vored na­tions rule would ap­ply to 50 cost­ly Medicare Part B med­i­cines, which are ad­min­is­tered in doc­tors' of­fices, such as ex­pen­sive can­cer and rheuma­toid arthri­tis ther­a­pies. The ad­min­is­tra­tion plans to phase in the low­est price in oth­er coun­tries and "blend" it with the av­er­age sales price, and then add a flat amount per dose for each ap­plic­a­ble drug.
Phar­ma com­pa­nies have staunch­ly op­posed en­act­ing the most fa­vored na­tions clause, and it was a source of much con­tention when Trump ini­tial­ly un­veiled the pro­pos­al four months ago. There were scant de­tails at the time and PhRMA sub­mit­ted a coun­ter­pro­pos­al in Au­gust that would have cut Part B prices by 10%, com­pared to the 30% the White House sought.
The White House re­leased the full text of the ex­ec­u­tive or­der in Sep­tem­ber, di­rect­ing HHS Sec­re­tary Alex Azar to es­tab­lish the clause for both Medicare Part B and Part D, which cov­ers pre­scrip­tion drugs. Ul­ti­mate­ly, a pric­ing deal re­port­ed­ly fell through be­tween the gov­ern­ment and the in­dus­try af­ter White House Chief of Staff Mark Mead­ows asked the com­pa­nies to send a $100 "cash card" to se­niors be­fore No­vem­ber and pin the blame for failed ne­go­ti­a­tions on phar­ma com­pa­nies.
Trump al­so an­nounced Fri­day that he would be end­ing the un­ap­proved drugs ini­tia­tive, in which the FDA re­moves un­ap­proved drugs from the mar­ket for safe­ty rea­sons, al­leg­ing they cre­at­ed sev­er­al price goug­ing op­por­tu­ni­ties for com­pa­nies look­ing to ex­tend their mar­ket ex­clu­siv­i­ty win­dows. Since 2006, the FDA has re­port­ed­ly shelved rough­ly 3,400 med­i­cines and has on­ly 11 left to re­view as part of the pro­gram, per Politi­co.