With Trump's new FDA com­mish nom­i­nee loom­ing, in­dus­try ex­ecs are keep­ing their fin­gers crossed for Scott Got­tlieb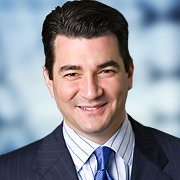 Scott Got­tlieb
Last week Pres­i­dent Trump said he was just days away from an­nounc­ing an ab­solute­ly "fan­tas­tic" new FDA com­mis­sion­er. One who would cut up to 80% of the reg­u­la­tions around drug de­vel­op­ment, blaz­ing a short­er path to an ap­proval. One who would get ex­per­i­men­tal meds to dy­ing pa­tients, over­haul­ing time­lines and slash­ing de­vel­op­ment bud­gets.
By and large, the mes­sage has spurred more than a lit­tle trep­i­da­tion in the in­dus­try that the pres­i­dent, who has earned a rep­u­ta­tion for shoot­ing first and ask­ing ques­tions lat­er, was go­ing to rad­i­cal­ly change the ap­proval process at the FDA. And that might in­di­cate that lib­er­tar­i­an "seast­ead­er" Jim O'Neill — who has fa­mous­ly said that drugs should be ap­proved on safe­ty alone — has the in­side track with the new pres­i­dent.
But he's not the in­dus­try's first choice. That dis­tinc­tion ap­pears to be re­served al­most en­tire­ly for Scott Got­tlieb, the for­mer deputy com­mis­sion­er at the FDA un­der George W. Bush with a rep­u­ta­tion as a staunch con­ser­v­a­tive with no known ap­petite for toss­ing grenades in­to the reg­u­la­to­ry un­der­brush.
Mizuho Se­cu­ri­ties USA ran a quick sur­vey of 53 drug com­pa­nies ask­ing them which of the four can­di­dates men­tioned so far in the me­dia — Got­tlieb, O'Neill, Bal­a­ji Srini­vasan and Joseph Gul­fo — would get their vote.
Sev­en­ty-two per­cent picked Got­tlieb. The rest were al­so rans. O'Neill got a hand­ful of votes at 8%, with Gul­fo at 9% and Srini­vasan at a mere 2%. (Gul­fo has pro­mot­ed his own can­di­da­cy with­out any in­de­pen­dent con­fir­ma­tion from the Trump ad­min­is­tra­tion that he's ever been a se­ri­ous can­di­date or been with­in 100 feet of the new pres­i­dent.)
In his week­ly roundup on Fri­day, Baird's Bri­an Sko­r­ney came to the same con­clu­sion with­out any polling. He wrote: "We be­lieve in­dus­try and in­vestor sup­port is over­whelm­ing­ly in fa­vor of Scott Got­tlieb."
"He leans right, he's got ex­pe­ri­ence in the agency, he's got the M.D. cre­den­tial, and he's out­spo­ken," Michael Ga­ba, fed­er­al pol­i­cy leader of law firm Hol­land & Knight's na­tion­al Health­care & Life Sci­ences Team, told Reuters re­cent­ly.
I asked Ga­ba to elab­o­rate on that. And he sent me this:
When it comes to the FDA, bio­phar­ma, and reg­u­lat­ed in­dus­try as a whole, puts a pre­mi­um on pre­dictabil­i­ty, speed to mar­ket, and the abil­i­ty to make dif­fer­en­ti­at­ing claims in the mar­ket­place about their prod­ucts' ef­fec­tive­ness to treat and mit­i­gate dis­ease. Safe­ty is the giv­en once a prod­uct makes it through the FDA, and by it­self doesn't dis­tin­guish prod­ucts in the mar­ket­place. Among the FDA com­mis­sion­er can­di­dates we've read about, Dr. Got­tlieb is well known to in­dus­try and has the req­ui­site ex­pe­ri­ence and tal­ent to re­form and stream­line the FDA ap­proval process.

The theme among the oth­er can­di­dates ap­pears to be to speed prod­ucts to mar­ket by lim­it­ing the agency's role to eval­u­at­ing safe­ty on­ly. Not on­ly would this dy­nam­ic be chal­leng­ing to in­dus­try, providers and pa­tients, it would re­quire a statu­to­ry change to the FD­CA – and we all know that the leg­isla­tive process it­self can be very messy and un­pre­dictable.
Got­tlieb's nom­i­na­tion would con­tin­ue a long­stand­ing tra­di­tion of nam­ing a trained physi­cian for the top job at the FDA. As a res­i­dent fel­low at the Amer­i­can En­ter­prise In­sti­tute, he's kept the heat on Oba­macare through a se­ries of op-eds in high pro­file pub­li­ca­tions like the Wall Street Jour­nal. As a ven­ture part­ner at New En­ter­prise As­so­ci­ates he's a board mem­ber at Me­dA­vante, which mar­kets soft­ware for an­a­lyz­ing clin­i­cal tri­al da­ta. And he's an ad­vi­sor to Glax­o­SmithK­line, which has shown no ap­petite for rad­i­cal change in the way de­vel­op­ers prove a drug works.
It's the kind of re­sume that would in­di­cate a sym­pa­thy for con­tin­u­ing to evolve reg­u­la­tions to speed de­vel­op­ment, but with­out any ap­petite for play­ing rev­o­lu­tion­ary.
Of course, that's one rea­son why he may not get the job. Trump has glee­ful­ly named new cab­i­net mem­bers based on their hos­til­i­ty to the agen­cies they'll be run­ning and the reg­u­la­tions they've been in­volved in cre­at­ing. And his ex­ec­u­tive or­der de­mand­ing the elim­i­na­tion of two rules for every new one un­der­scores his com­mit­ment to elim­i­nat­ing hun­dreds of pages of regs for every one that sur­vives.