Jaz­z's $1B SCLC drug fails com­bo tri­al, quash­ing hopes of quick full ap­proval. But how much does it mat­ter?
Lur­binecte­din was look­ing like a great turn­around sto­ry for Span­ish biotech Phar­ma­Mar. More than a year af­ter the drug flopped in a Phase III ovar­i­an can­cer study, it hit the mark for over­all re­sponse rate in small cell lung can­cer, at­tract­ed Jazz Phar­ma to gam­ble on a $1 bil­lion pact and land­ed an ac­cel­er­at­ed ap­proval ear­li­er this year.
Un­til it failed the over­all sur­vival end­point in a new Phase III study.
The part­ners said lur­binecte­din, mar­ket­ed as Zepzel­ca, didn't meet the "pre-spec­i­fied cri­te­ria of sig­nif­i­cance" for OS in the over­all pop­u­la­tion. Pa­tients were giv­en ei­ther a com­bi­na­tion of the drug and the chemother­a­py dox­oru­bicin, or just their physi­cians' choice of topote­can or cy­clophos­phamide/dox­oru­bicin/vin­cristine.
To be sure, the com­bo reg­i­men isn't what the FDA ap­proved. Reg­u­la­tors gave their thumbs up to the monother­a­py as a sec­ond-line ther­a­py for pa­tients who re­lapsed fol­low­ing plat­inum-based chemother­a­py. An open-la­bel study showed an ORR of 35.2%, while pro­gres­sion-free sur­vival and OS were 4.6 months and 11.9 months, re­spec­tive­ly.
But the dis­ap­point­ing out­come of the new study, dubbed AT­LANTIS, may not nces­sar­i­ly be a crush­ing blow, said Jack West, a lung can­cer spe­cial­ist at City of Hope.
First, peo­ple HATE topote­can (some­times called "topote­can't") and see it as a very weak in­cum­bent that has nev­er clear­ly de­served its ti­tle as stan­dard of care — at best, the re­sults have al­ways damned with faint praise. Sec­ond, the tri­al was with a chemo com­bo that may very well have been too tox­ic to al­low op­ti­mal dos­ing of lur­binecte­din and may have led to ear­ly ter­mi­na­tion of the com­bi­na­tion and/or ag­gres­sive dose re­duc­tions. If the tri­al had been pos­i­tive, I think there would have been very lit­tle in­ter­est in ad­min­is­ter­ing the com­bi­na­tion, so I would con­sid­er lur­binecte­din monother­a­py as a dis­tinct if some­what over­lap­ping ques­tion, and the fact that the phase 2 ex­pe­ri­ence is over 100 pa­tients makes me con­sid­er it clin­i­cal­ly mean­ing­ful vs. a very du­bi­ous cur­rent stan­dard of care. It wouldn't hold up against a more wor­thy 2nd line stan­dard.
Even though it wasn't orig­i­nal­ly planned as con­fir­ma­to­ry, Jazz had said that the FDA ap­peared ready to ac­cept its da­ta for that pur­pose.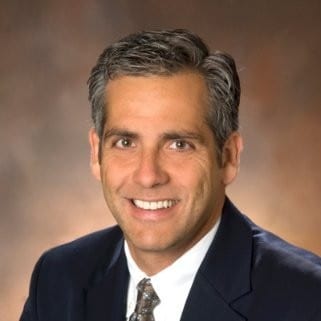 Robert Ian­none
It will now dis­cuss with reg­u­la­tors what ev­i­dence they need for full ap­proval. The drug was launched in the US in Ju­ly.
"While the com­bi­na­tion of lur­binecte­din and dox­oru­bicin did not achieve the pri­ma­ry end­point in this study, the over­all re­sults sup­port the ac­tiv­i­ty and tol­er­a­bil­i­ty of lur­binecte­din in this line of ther­a­py," Jazz EVP of R&D Robert Ian­none said in a state­ment. "We look for­ward to the fur­ther de­vel­op­ment of lur­binecte­din in SCLC and oth­er tu­mors, both as monother­a­py and in com­bi­na­tion."
Small cell lung can­cer has been a dif­fi­cult field for drug de­vel­op­ment, with the PD-(L)1 check­point in­hibitors pro­vid­ing the first op­tions in years.
Al­ber­to Chi­ap­pori, an on­col­o­gist at Mof­fitt Can­cer Cen­ter and an AT­LANTIS in­ves­ti­ga­tor, said he's still "con­fi­dent" lur­binecte­din is an "ef­fec­tive new op­tion" for this area.
Jazz and Phar­ma­Mar em­pha­sized that no new safe­ty sig­nals were re­port­ed, "there was no ad­verse ef­fect on OS with the ex­per­i­men­tal arm" and that the dose test­ed was low­er than the FDA-ap­proved dose.