With its dengue vac­cine in the reg­u­la­to­ry queue, Take­da out­lines longterm fol­lowup da­ta that it says keep it out of Deng­vax­i­a's shad­ow
When Sanofi pub­lished longterm fol­lowup re­sults from a trio of Phase III tri­als for its dengue vac­cine in 2015, in­ves­ti­ga­tors flagged a con­cern­ing ob­ser­va­tion that they weren't able to ex­plain: In the third year post-vac­ci­na­tion, chil­dren younger than 9 who got the jabs were more like­ly to end up in the hos­pi­tal than those in the con­trol group.
The hos­pi­tal­iza­tion im­bal­ance didn't stop Sanofi from clinch­ing the ap­proval to start the world's first large-scale vac­ci­na­tion cam­paign in the Philip­pines with its vac­cine, Deng­vax­ia. But even though pub­lic health of­fi­cials tried to skirt it by lim­it­ing the in­oc­u­la­tion dri­ve to old­er chil­dren and adults, the is­sue — which Sanofi was lat­er ac­cused of play­ing down — would come back to haunt the ef­fort. Kids and adults were de­vel­oped with se­vere fever af­ter vac­cines, in some cas­es lethal, spark­ing na­tion­wide pan­ic and forc­ing the Phillip­pine gov­ern­ment to shut down the pro­gram. Even though Deng­vax­ia even­tu­al­ly got adopt­ed in oth­er coun­tries, the fi­as­co left its scars.
Take­da, which has been push­ing its own dengue vac­cine un­der that cloud for the past eight years, now has the three-year fol­lowup da­ta to sug­gest it can steer clear of that wreck­age — al­though some gaps re­main be­fore we get a com­plete pro­file of the shot.
With those re­sults now in, the Japan­ese phar­ma has al­so com­plet­ed the pack­age it needs to file with reg­u­la­tors. Take­da sub­mit­ted for a mar­ket­ing ap­proval with the EMA in March, and it's plot­ting more in dengue-en­dem­ic coun­tries like Ar­genti­na, Brazil, Colom­bia, In­done­sia, Malaysia, Mex­i­co, Sin­ga­pore, Sri Lan­ka and Thai­land. An FDA fil­ing is ex­pect­ed to fol­low lat­er this year.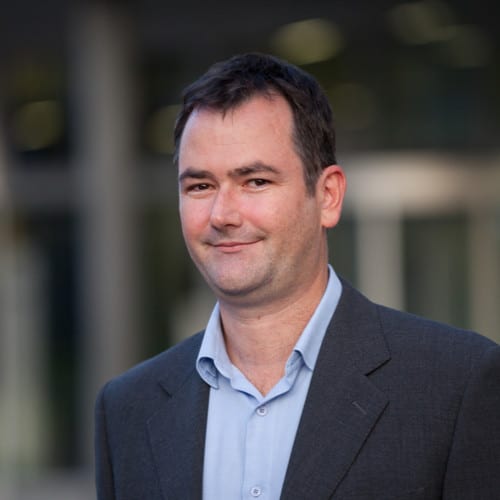 Derek Wal­lace
Hav­ing fol­lowed 20,000 study par­tic­i­pants for 36 months af­ter their sec­ond dose of TAK-003, in­ves­ti­ga­tors re­port­ed that vac­cine ef­fi­ca­cy against hos­pi­tal­ized dengue is 83.6%.
"That's re­al­ly the com­po­nent of the ill­ness that has the most im­pact, at an in­di­vid­ual lev­el whether that's on health or fi­nances, it's al­so the as­pect of dengue that has the great­est im­pact on pub­lic health sys­tems and our com­mu­ni­ties," Derek Wal­lace, the dengue pro­gram leader at Take­da, told End­points News in a pre­view.
The ef­fi­ca­cy num­bers are sim­i­lar re­gard­less of whether the vac­cine re­cip­i­ent has had a pre­vi­ous dengue in­fec­tion — 86% for the seropos­i­tive group and 77.1% for the seroneg­a­tive group — which is no­table be­cause a phe­nom­e­non known as an­ti­body-de­pen­dent en­hance­ment in virus-naïve pa­tients had been blamed for Deng­vax­ia's prob­lems.
Over­all vac­cine ef­fi­ca­cy, as mea­sured by vi­ro­log­i­cal­ly-con­firmed dengue, reg­is­tered at 62.0%, with 65% in seropos­i­tive in­di­vid­u­als and 54.3% in seroneg­a­tive in­di­vid­u­als.
The pro­tec­tion that the vac­cine of­fers has waned across the board com­pared to the last cut of da­ta at 18 months, when Take­da tout­ed an over­all ef­fi­ca­cy rate of 73% and re­duc­tion of 90% in dengue-re­quired hos­pi­tal­iza­tion com­pared to place­bo. But the wan­ing fo­cused on what Wal­lace calls "am­bu­la­to­ry dengue" and the drop was small­er in the group that mat­tered.
But Take­da didn't pro­vide an up­date on the break­down of ef­fi­ca­cy in each of four dengue serotypes, say­ing it will save those num­bers for pub­li­ca­tion in a peer-re­viewed jour­nal lat­er this year. At 18 months, while the ef­fi­ca­cy for dengue 1 and dengue 2 looked promis­ing, there were con­cerns about a lack of ef­fi­ca­cy for dengue 3. (For dengue 4, the da­ta were in­con­clu­sive.)
Sanofi scored ap­proval for Deng­vax­ia with Phase III da­ta that were pre­sent­ed in a slight­ly dif­fer­ent way, sug­gest­ing pooled rates of ef­fi­ca­cy for symp­to­matic dengue dur­ing the first 25 months of 60.3% — and pooled rel­a­tive risks of hos­pi­tal­iza­tion for dengue of 0.84.
Per the pro­to­col, Take­da will mon­i­tor the par­tic­i­pants for an­oth­er year and a half. Af­ter 4.5 years, it plans to test whether a boost­er would of­fer more pro­tec­tion in the long run.
"The world we live in now with Covid-19 has re­al­ly shown the po­ten­tial­ly dev­as­tat­ing im­pact that in­fec­tious dis­eases can have, and the val­ue of care­ful vac­cine de­vel­op­ments and im­ple­men­ta­tion of vac­cine pro­grams," Wal­lace said. "In the back­ground of all that, we have dengue. Dengue has been around for decades be­fore Covid-19 and it will be around for decades to come. It's a dis­ease that is mas­sive in its im­pact, af­fect­ing half of the world's pop­u­la­tion and it's not a dis­ease that we've got a very good han­dle on in terms of man­age­ment or pre­ven­tion."
They've come a long way to ar­rive at a stage where they are prepar­ing to talk to reg­u­la­tors. Orig­i­nal­ly de­rived in the lab­o­ra­to­ries of Su­tee Yok­san at Mahi­dol Uni­ver­si­ty in Thai­land, the live-at­ten­u­at­ed vac­cine con­struct was mus­cled up at the US CDC and went through clin­i­cal stud­ies at In­vi­ra­gen be­fore Take­da snapped the biotech up in 2013, while the dengue pro­gram was still in Phase II, ac­cord­ing to a spokesper­son.
Covid-19, of course, still fig­ures promi­nent­ly in the minds of any vac­cine de­vel­op­er. Even as Take­da ham­mers out the arrange­ment for its Ger­man con­tract man­u­fac­tur­er IDT to make the ini­tial dos­es of TAK-003 should it be ap­proved (be­fore even­tu­al­ly set­ting up its own pro­duc­tion in Ger­many), it will be pro­vid­ing some man­u­fac­tur­ing slots there to make J&J's coro­n­avirus vac­cine while help­ing Mod­er­na dis­trib­ute its shots in Japan.